While the country is in lockdown and we can't make our way to town halls, theatres and festivals, we are making online theatre for you!
We have a range of different activities and shows to keep you entertained while at home including storytelling, workshops and streamed shows. We are creating more and more each week – let us know if there's anything you'd like to see here!
You can catch up with everything that's currently online below…
If you enjoy what we are making please consider donating to support us. Visit our donation page.
Shows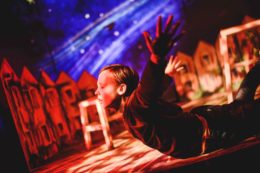 A young boy waits for the birth of his baby sister… He can't wait to tell her all about the swifts which nest not far from the top window of their pointy house… it's nearly time, she's nearly here.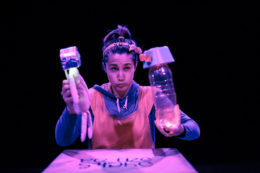 A Strange New Space – Watch Now
A Strange New Space will be available from 19 June 2020, as part of the Bristol Refugee Festival 2020. 
Did you know that Astronauts get taller in space? That our solar system is around 4.6 billion years old? Or that there are more stars in the universe than grains of sand on all of the beaches on Earth?
Storytelling
Every other Sunday at 6:30pm, one of the team is live on Facebook for a bedtime story. You can catch up on any you missed here!
Meet the Team
Every Wednesday at 3pm you are invited to meet our team!
Our collaborators will be live to talk to you about what they do and why they love it. If you're interested in how we make our productions, or want to know more about theatre making, please come and follow our live sessions on Facebook and ask us anything you'd like to know.
Catch Up
Tessa Bide – Theatre Maker, Performer and Producer
Nina Dunn – Video and Projection Designer
Peta Maurice – Performer, Voice Artist and Director
Amy Draper – Director and Theatre maker
Georgina Rose Shire – Set Builder and Maker
Workshops
We are creating online workshops which you can use at home. These creative workshops cover puppetry, storytelling, physical theatre, devising and character work. First up we have our 'Puppet Making Tutorial' workshop which is available for free. Visit out Workshops page for a range of other activities.