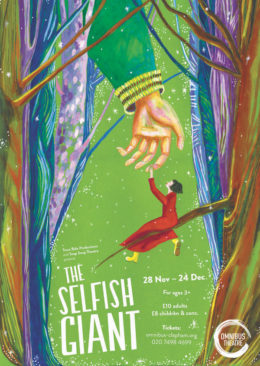 Inspired by the touching children's story 'The Selfish Giant' by Oscar Wilde, Tessa Bide Productions and Soup Soup Theatre have combined forces to explore an unusual friendship, and how even the grumpiest giant's heart can melt when Spring finally comes…
Grinter is a giant. She lives happily alone in her huge cold house, surrounded by her huge snowy gardens, enclosed by her high, frost-covered walls. She shuts out the world, because long ago, the world shut her out, and so she hides, safe and quiet in her peaceful, icy home. Outside the towering walls of her enormous garden, the world has been changing and there is very little green left. One day, the children – tired of playing on hard roads and grey rooftops – find a chink in the giant's wall and climb through, changing the course of the children's and Grinter's lives forever.
The Selfish Giant is a two-hander, told using powerful storytelling, captivating puppetry, beautiful design, enchanting music and a sprinkling of audience interaction magic. An innovative light and sound design transports the audience into a rich and evocative world where giants are your neighbours and the voices of the wind and snow whisper at your keyhole and call down your chimney at night.
Teaser Video
Creative Team
Director/Dramaturg: Adam Fuller
Composer: Matt Huxley
Movement Director: Laura Street
Circus Director: Gwen Hales
Co-Producer/Devisor/Performer: Tessa Bide
Co-Producer/Designer/Devisor/Performer: Tomasin Cuthbert
Dates
Due to Covid-19, our tour dates are currently being updated and rescheduled. We will be back on the road as soon as we can or click the link above to enjoy the show at home.
To be the first to know when we are back, sign up to the mailing list
We hope to see you soon!
Gallery
Production photos by Paul Blakemore.