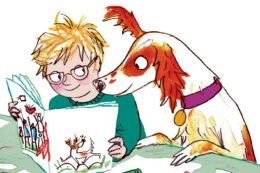 Our accessible and imaginative adaptation of Julia Donaldson's award winning book, The Detective Dog, features puppetry, song and magical scent technology, bringing the story alive on stage for audiences of all ages. 
Whether it's finding a lost shoe or discovering who did a poo on the new gravel path, Nell's ever-sniffing nose is always hard at work. So when the books at her owner Peter's school have disappeared one morning, Detective Dog Nell is ready to sniff out the culprit!  (Suitable for ages 3-7) 
Accessibility
This production sees us exploring new ways of working to create innovative and accessible theatre. The show is accessible to D/deaf children and their families by using clever dynamic captions and incorporated British Sign Language. We're working with some brilliant Deaf artists to make sure that the show reflects the needs of the D/deaf community. 
Dates
2024 touring dates coming soon!
Trailer
Creative Team
Written by Julia Donaldson and Illustrated by Sara Ogilvie
Adapted and Produced by Tessa Bide Productions
Directed by Peta Maurice
Designed by Katie Sykes & Ruby Brown
Composed by Jack Drewry
BSL Consultancy by Jonny Cotsen
Video Design by Ben Glover
Puppet Design by Jess Jones
R&D Performers: Adam Bassett, Tessa Bide & Anna Rathbone
Where and When?
We'll be touring the show from February half term 2024. It's perfectly suited to studio to mid-scale theatres and we also have a flexible, stripped down design of the show which can pop-up in libraries too (more on that here). 
Interested in booking The Detective Dog for Spring/Summer 2024? Get in touch with us via email.
If you're an audience member, be sure to sign up to our mailing list to find out about when we'll be on tour with the show!
Library Tour
We made a smaller version of this show, which is currently touring around libraries in the South of England. See more information on that here.
Gallery
Production Images by Paul Blakemore from the R&D in Summer 2022.