An anarchic audio adaptation of our pop-up caravan show, an interactive digital adventure for ages 6-11.
'The Anarchist's Mobile Library' will take you on an incredible audio adventure that YOU choose, solving problems and meeting characters, from anywhere you choose to play! With many different worlds to explore, where will your adventure take you? Perhaps an intergalactic space adventure? Or a deep-sea swim, meeting creatures that lurk in the depths? Or even an abandoned witch's kitchen, with the cauldron bubbling away?
Tessa Bide Productions have created an interactive, audio adventure to empower children to be masters of their own destinies, to be inspired by literature and to change the stories they see unfolding around them.
Dates
We're heading on our first ever digital tour to some wonderful venues across the UK. Please try to support the theatre most local to you by enjoying the show when it tours to them!
The Library Presents
21st November – 31st December
We are adding more dates to this digital tour all the time, so sign up to the mailing list to be the first to know when new dates are released.
Feedback
"A well-crafted, imaginative journey. Playful text and fun activities that held the attention. This has been curated with care and always with the child in mind" Stevie Thompson (theatre maker & parent)
"It was engaging, interesting & exciting. The adventures placed the children at the heart of it by allowing them to create their own journeys, which was both empowering and inspirational." Parent
Sneak Preview!
Gallery
Education Pack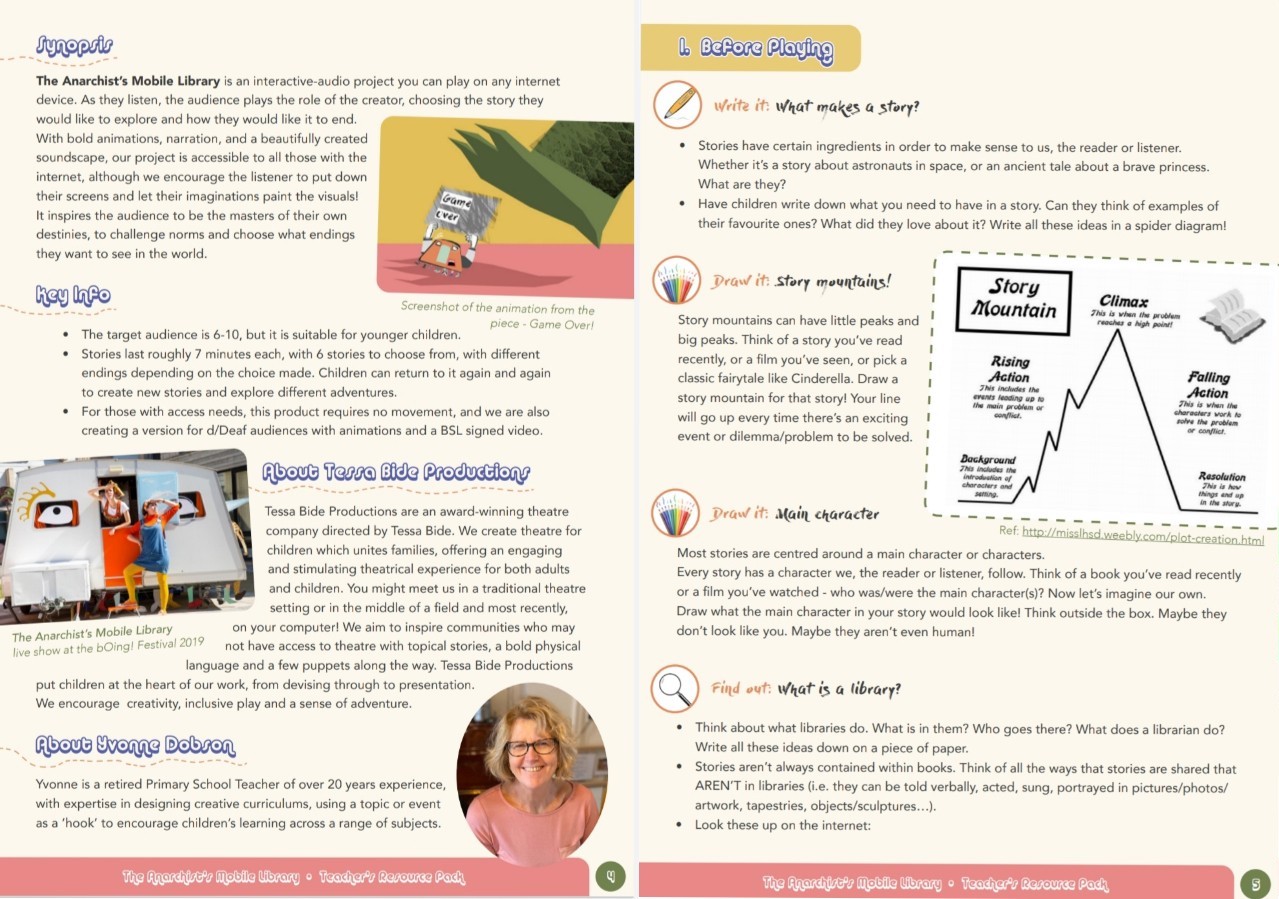 If you're a teacher, or a parent wanting to take the experience further with wraparound educational activities, check out our beautiful Teacher's Resource Pack for ideas linking the project to literacy, PSHE, science, art and drama! Co-written by Tessa Bide Productions and retired primary school teacher with over 20 years experience Yvonne Dobson.
Download it here.
Creative Team
Original concept: Tessa Bide
Dramaturgs: Gwendolyn Scott and Lorna Rees
Written and performed by: Tessa Bide
Composer: Chris Menes
Creative Technologist: Martin O'Leary
Animator: David Rock
Illustrator: Tomasin Cuthbert Menes
Produced by Tessa Bide Productions
Supported by Arts Council England, Pound Arts, The National Rural Touring Forum and Pervasive Media Studios.
Further reading…
R&D blog
During the show's development, Tessa and the team had the opportunity to spend a week delving into the archives at Seven Stories to begin the start of The Anarchist's Mobile Library. Read about Tessa's trip to Seven Stories, National Centre for Children's Books, who are our partner and collaborator for this show.
Why are we making this show?
During rehearsals in August 2019, Tessa wrote an updated blog of sorts, setting out our intentions for the show, and reasons why we made it. Have a read here.
Information for bookers
We are currently taking bookings for our digital tour 2020-21. For booking enquiries, please contact us on admin@tessabide.com.