The Anarchist's Mobile Library will take you on an incredible adventure that YOU choose, solving problems and meeting characters, all in a retro, pop-up caravan! Where will you choose to journey to? An intergalactic space adventure? A deep sea swim meeting creatures that lurk in the depths? An abandoned witch's kitchen, with the cauldron bubbling away, just begging to be played with..?
The Anarchist's Mobile Library exists to empower children to be masters of their own destinies, to be inspired by literature and to change the stories they see unfolding around them.
Audiences (of up to 3 children and 1 adult at a time) will join us on an adventure and leave feeling prepped and primed to change the world!
Trailer
Covid-safe show!
We have created a covid-safe version of The Anarchist's Mobile Library. Don't worry- we still bring along our pop-up van.. and our librarians!
First tested on a brilliant audience in Calne, Wiltshire, our audiences will be asked to write down story ideas and draw pictures on beautifully designed postcards, prompted by the phrase: 'Once Upon a Time In…' Our anarchist librarians will be there to spark ideas and encourage participation. We will collect all the ideas up and create a Story Zine for you and your community.
We also have our digital adventure for you to join in with at home when you have finished with your story!
Feedback
Feedback from programmers, from the initial tour, Autumn 2019:
'The transformation, from mildly apprehensive children entering a slightly weird, old-fashioned caravan to the imaginations that burst out from the Anarchist's Mobile Library, was a joy to watch. The children were buzzing with the stories they'd invented and the worlds they'd created in such a small time and space. The care that the creative team have taken to build a world that is inventive and fun, that allows the children to explore and to lead and to be messy with words and ideas, is exemplary and if I had the resources to park this outside every public library, in every high street across the country I would.'
Katy Snelling at Farnham Maltings
'The perfect accompaniment for Corsham's StoryTown Festival, The Anarchist's Mobile Library was a truly exciting way to introduce theatre to a new audience and a part of the community in which we are not so visible or accessible as an organisation. A real treat for all who engaged, entered and let their imagination take them anywhere they wished to go. Tessa Bide has created a delightful and beautiful interactive experience that is likely to leave you hungry for me. What an amazing idea.'
Martin Campbell, Programme Manager at The Pound arts centre
Creative Team
Original concept: Tessa Bide
Dramaturg: Lorna Rees
Performers and co-devisors: Tessa Bide and Jessica Clough-MacRae
Additional devising input during R&D: Eline Hallem
Design: Luned Gwawr Evans, with help from, and thanks to, Lorna Rees and Ella Barraclough
Sound Design: Chris Menes
Scenic painter: Ella Barraclough
Build: Georgi Shire, with help from, and thanks to, Tomasin Cuthbert Menes, Josh Lucas, and Marta Smyk
Produced by: Tessa Bide Productions
Dates
This show is no longer touring – check out the digital version instead.
Story Zine from Calne!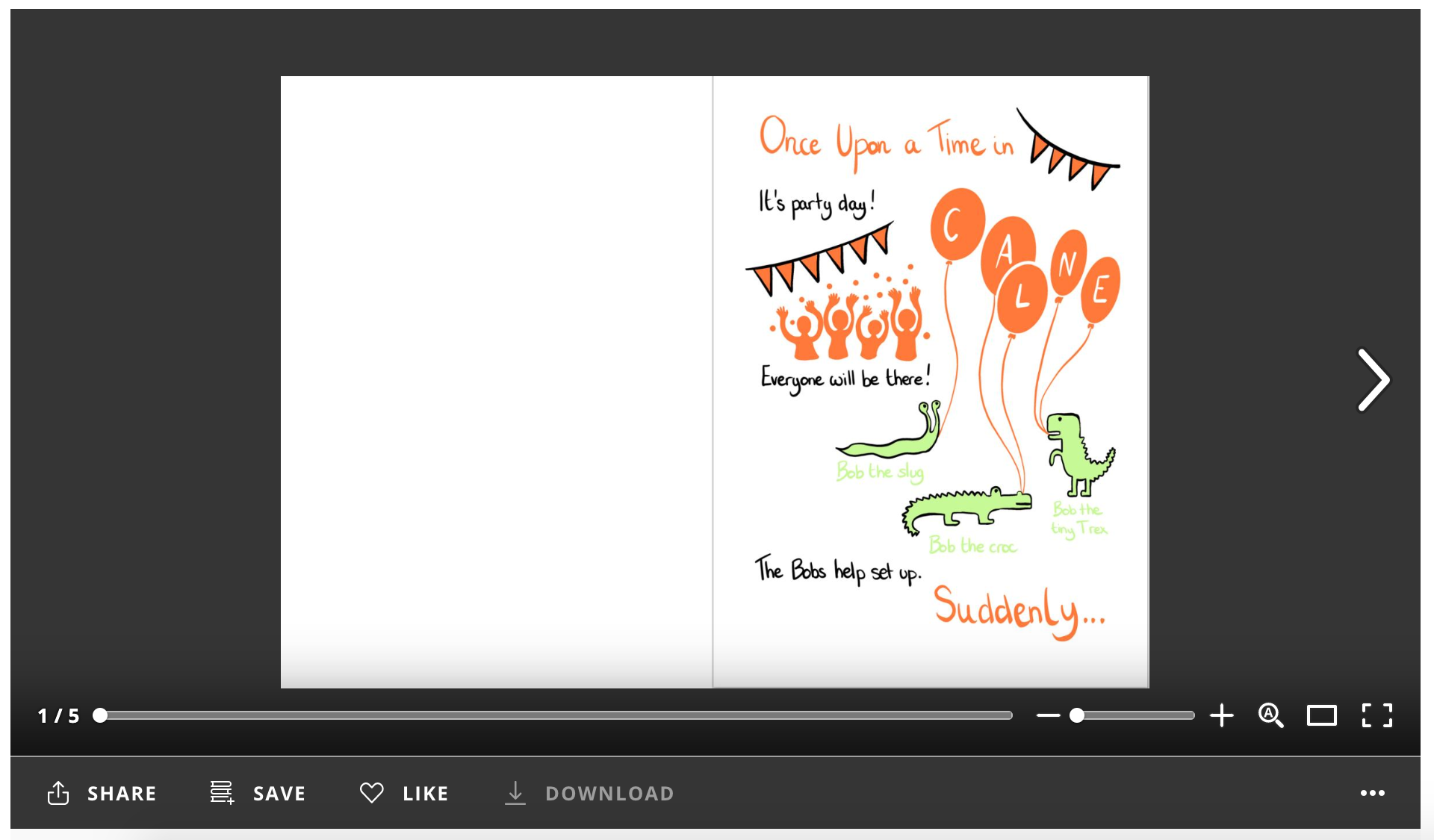 Gallery from bOing! and our Covid-safe show in Calne
Further reading…
R&D blog
During the show's development, Tessa and the team had the opportunity to spend a week delving into the archives at Seven Stories to begin the start of The Anarchist's Mobile Library. Read about Tessa's trip to Seven Stories, National Centre for Children's Books, who are our partner and collaborator for this show.
Why are we making this show?
During rehearsals in August 2019, Tessa wrote an updated blog of sorts, setting out our intentions for the show, and reasons why we made it. Have a read here.
Information for bookers
Due to current covid restrictions, we are currently taking bookings for 2021 for our covid-safe show only.  For booking enquiries, please contact us on admin@tessabide.com.
Bob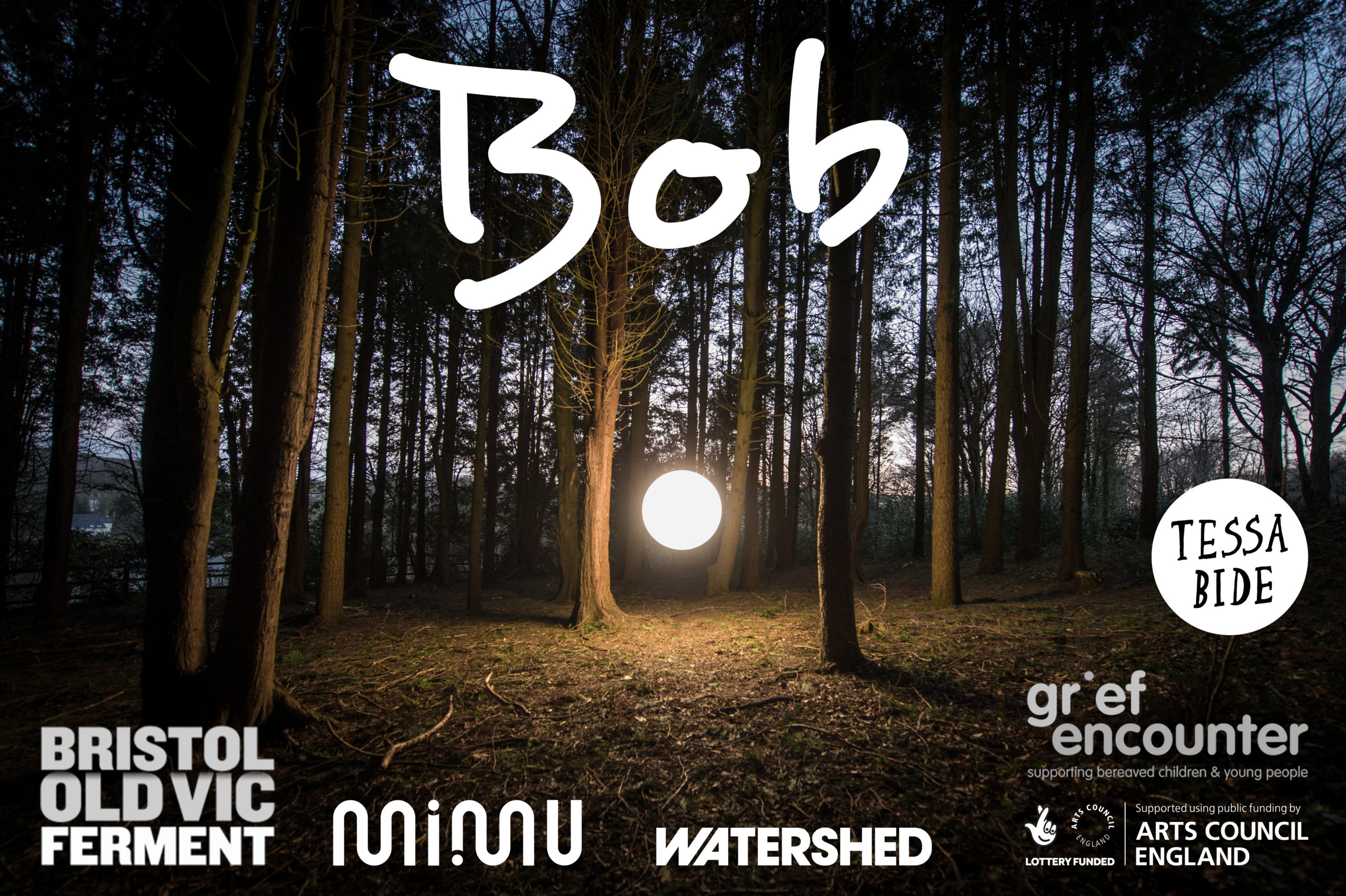 Two friends meet Bob, a blob of light, and their world becomes brighter with him inside of it. With him they play games, make adventures and explore. But one day Bob fades away and the two are left to come to terms with his unexpected disappearance from their lives.
Using ground breaking interactive live projections, light manipulation, movement and sound, Bob is a 50 minute piece performed by two Japanese movement artists, exploring bereavement and loss in a playful, accessible and truthful way for young people.
Bob underwent an R&D in Autumn 2019 – Feb 2020, in partnership with Bristol Old Vic's Ferment programme, Grief Encounter South West and Pervasive Media Studio. We are currently seeking partners to support its development to a full-scale production.
Creative Team
Director: Amy Draper
Projection Design: Nina Dunn
Dramaturgs: Stewart Melton and Tessa Bide
Performers: Haruka Kuroda, Dai Tabuchi and Arran Glass
Produced by Tessa Bide Productions
"Orb" image: courtesy, danielbenney.com
Trailer
Feedback
"We are genuinely excited about BOB. Last year in collaboration with MiMu, Watershed hosted a development Residency for BOB within our creative technology hub, the Pervasive Media Studio. Using MiMu's glove technology, we bought the projected character of Bob to life. This was the first time the gloves had been used by a puppeteer and we were astounded by the results. BOB's creative team are a talented, courageous group of people. They are working at the cutting edge, pushing the boundaries of what can happen when art and technology collide in unexpected ways. BOB is a distinctive, seamless, magical piece of work. We are proud to support it through continued residency at the Pervasive Media Studio."
Victoria Tillotson, Talent Development Lead, Watershed R&D blog
"We hosted a work-in-progress of BOB for young audiences as part of our bi-annual Ferment Fortnight festival. The performance was universal, nimble and heartfelt; the children responded with genuine excitement to the puppet of Bob – he seemed real & personified to them, which is a credit to the complex technology at work onstage. It's a really exciting and unusual work, exploring loss with care & sensitivity."
Ben Atterbury, Ferment Producer, Bristol Old Vic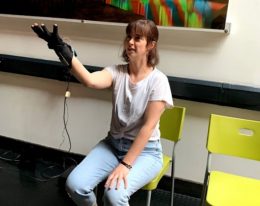 In August 2019, we partnered with the magnificent Pervasive Media Studios at Watershed, Bristol, for a tech residency to play with who Bob is and how to create him. Victoria Tillotson — Talent Development Lead at Pervasive Media Studios — wrote this blog about the week and our experiments with Mi.Mu gloves and more!
Gallery
Production shots taken at the work-in-progress performance at Bristol Old Vic's Ferment Fortnight, Feb 2020. Photos by Fred Iles.
Process
We partnered with the charity Grief Encounter South West to research this project with their amazing service users. We had lots of fun playing with making characters out of light, and they helped us tell the story about loss and grief in a way that made sense and felt truthful.
Perfect
A young boy waits for the birth of his baby sister… He can't wait to tell her all about the swifts which nest not far from the top window of their pointy house… it's nearly time, she's nearly here.
'Perfect' is an innovative adaptation of the beautiful illustrated book by Nicola Davies and Cathy Fisher, about a young boy meeting his disabled sister for the first time. Perfect is a remarkable story of anticipation and disappointment, acceptance and love, and the power of nature in all our lives. It will feature stunning animations inspired by the book's illustrations, two talented performers, puppetry and an original soundscore composed by Matt Huxley (the composer for all of our shows).  Read more about the book here. 
Teaser Video

Creative Team
Devised ​by: the ​company
Original ​story ​by: ​Nicola ​Davies ​& ​Cathy ​Fisher
Performers: Tessa ​Bide ​& ​Eline Hallem
R&D Performer: Stephanie De Whalley
Director/Dramaturg: Adam ​Fuller
Movement ​Director: Laura ​Street
Designer: Luned ​Gwawr ​Evans
Composer: Matt ​Huxley
Lighting and Projection ​Designer: Joe ​Stathers
Animations: Karolina Bielskyte, David Rock and Laura Miranda Moreno with input from Sabrina Marengo.
Assistant ​Producer: Claire ​Crawford
R&D Design ​Assistant: Marta ​Smyk
R&D Production Assistant: Alice Palmer
Gallery
Production photos by Kirsten McTernan, along with illustrations by Cathy Fisher from the book.
Information for Bookers
Our downloadable venue pack is here. 
For booking enquiries, please contact the team on admin@tessabide.com.
Arnold's Big Adventure
Gather under the branches for the biggest day in the woodland calendar, Drop Day! Arnold the acorn is about to drop from his tree and begin his amazing adventure in search of somewhere to put down his roots. Join Arnold as his story flies in the wind, wiggles across the land and splashes into the sea… Who will he meet along the way and will he ever find the perfect spot to call home?
Taking place in a special bell tent, Arnold's Big Adventure features beautiful shadow puppetry, wonderful original music to sing along to and plenty of thrilling surprises along the way…
An intimate, interactive production perfect for a child's first theatre experience and with plenty for parents to enjoy too.
Suitable for children aged 3 – 10 years and their grown-ups
Teaser Video
Creative Team
Devised by: the Company: Tessa Bide, Adam Fuller, and Nathalie Codsi
Performers: Tessa Bide & Megan Vaughan-Thomas/Gwen Scott/Adam Fuller
Director: Adam Fuller
Composer: Matt Huxley
Designer: Marta Gemma
Dramaturgical support: Gwen Scott and Laura Mugridge
Costumes: Sarah Dicks
Tent design & build: James Lewis at Tin Shed Scenery
Tent canvas: Tsubi Du
Artwork: Lydia Davies
Produced by: Tessa Bide Productions
Gallery
Information for programmers
Arnold's Big Adventure has finished touring now, please see our current shows to see what we're currently working on.
The Bed
The Bed was a Lady Strong's Bonfire production – our 'sister' theatre company that Tessa ran with Tomasin Cuthbert Menes and Liz Hart.
Our Bed knows us best of all. It is holder of our dreams, comforter of our tears. It soaks up our blood, our sweat, and caresses us in the heat of our passions. It confines us. Heals us. Welcomes us when we arrive, and is the last to say goodbye to us when we leave. Here we are all naked. The Bed sees through all our disguises.
The Bed is the journey of a woman and is a celebration of some of the most potent times in her life. The times of changeover. Her gateway times from One to Other.
Using mask, puppetry, clown, visceral physical performance and a hypnotic original sound-score, we delve into the dream world, the physical world and everything in between. The Bed is the first theatrical endeavour from Lady Strong's Bonfire. Combining the talents of Tomasin Cuthbert (Soap Soup Theatre), Tessa Bide (Tessa Bide Productions) and Liz Hart (Bric a Brac Productions), we offer up a feast of personal, funny, and gorgeous visual theatre.
Teaser Video
Gallery
The Melody Makers
Pip Christmas hates Christmas. Her family love it so much they made it their name – they put the tree up in September and put it away in March and they eat beans all year to save up for the festive indulgence. Pip's only saving grace is her best friend, Rupert – a tiny robin who visits her every morning for the month of December. One morning, the Christmas music disappears and Pip must go on a quest to find out why the music has stopped – she must find the Melody Makers and, boy, they're not happy….
Starring 4 talented actor-musicians, beautiful hand-made puppets and A LOT of music, this will be a magical, musical extravaganza set to charm the stockings off of the whole family.
This production went through a Research and Development period in June 2015, supported by Arts Council England, Bridport Arts Centre and The Marine Theatre's 'R&D By The Sea' programme. It later toured to The Wardrobe Theatre (Bristol), The Marine Theatre (Lyme Regis) and Bridport Arts Centre in winter 2015. It is safely stored away to come back one Christmas…!
Teaser Video
Creative Team
Devised ​by: the ​company
Performers: Tessa ​Bide, Matt Huxley, Jean Bono & Megan Brooks
Director/Dramaturg: Emma Williams (R&D Direction & Dramaturgy: Holly Stoppit)
Composer: Matt ​Huxley
Designer: Sarah Dicks
Maker: Georgia Shire
Lighting ​Designer: Tom Richmond
Production ​Assistant: Claire Crawford
Produced ​by: Tessa ​Bide ​Productions
Gallery
Information for programmers
Here are the downloadable venue pack and tech spec for this production. We would love to bring it out of storage, so if you're interested in booking it, please contact the team on admin@tessabide.com.