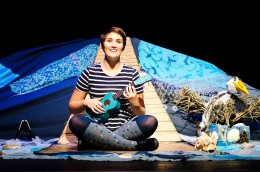 Hannah Margerison (A Younger Theatre) reviews The Tap Dancing Mermaid at Summerhall during the Edinburgh Fringe Festival, August 2015.
Marina Skippett loves to tap dance. She does it waiting in line for the supermarket, along the street, even in bed while she is asleep. But when her irritable auntie bans tap dancing, Marina can't take no for an answer.
The Tap Dancing Mermaid is the perfect example of a show where the adults are just as enthralled as the kids. While there are no awkwardly subtle more mature jokes, the storytelling is just so captivating that you can't help but let yourself be dragged along as Marina tap dances her way to the sea.
There's a unique art that comes with solo shows. For an hour or so, one person must completely hold our attention – a mammoth task when the majority of your audience is under five. Tessa Bide has absolutely mastered this art. Not to mention that she is indeed a tap dancing whiz. How someone's feet can move that fast and still create a coherent rhythm is beyond me.
With the use of puppets and the Moon's pre-recorded narration, it doesn't take long for us to forget that one person is driving this whole show – even when the characters are talking seagulls or an evil aunt made from lampshades and kitchen utensils. We buy into everything, all thanks to Bide's excellent storytelling and characterisation. It's not long before Marina's aunt enters to liberal 'boos' from the audience.
The charm in this show comes from the fact that it's structured like a sort of quirky fairy tale, absolutely perfect for those bored of the same old stories. There are all the ingredients of Grimm-style tales, but Bide has uniquely twisted them to create a story wholly more engaging and captivating.
Bide makes all right choices to submerge us into this quirky, seaside universe, and gets the balance just right. I love the use of a flickering lampshade as the moon, totally encapsulating that sense of wonder that only children possess. A must-see if you fancy satisfying your inner child-at-heart; even better if you can take younger children.