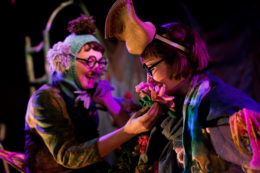 Nappy Valley reviews The Selfish Giant at Omnibus Theatre in December 2018.
What an enchanting place to hold such an enchanting play! Last Saturday, my family and I embarked on our first play of the festive season at Omnibus Theatre in Clapham Common. The last time I was in this place it was full of books (and still a library). This time round, it was transformed into an enchanted garden through an adaptation of one of the most endearing stories to have, probably, graced the shelves of the former library.
Tessa Bide Productions and Soap Soup Theatre have brought to life Oscar Wilde's short story, The Selfish Giant in an intimate, simple and powerful performance using thoughtful and impactful storytelling and puppetry techniques.
They tell the story of Grinter, the giant who isolates herself behind high walls in her wonderful garden. One day, the kids, tired of their hard roads and grey rooftops climb into her garden to play and one little girl in particular, Poppy, thaws out the Giant's selfish heart.
This is a beautiful tale of friendship and belonging, skilfully told through the characters, their puppets and the music.
To be honest, I'm not sure if I got more joy from watching the play or from watching my seven year old watching the play. It was so heartwarming to see him so absorbed by the story. He was literally on the edge of his seat for most of it.
I was initially worried that he might get bored in a play that doesn't involve a panto style interactive cast and a revolving set with bells and whistles, but he loved it. He understood the subtleties, he felt the joy of the kids, the changing of the seasons and the kindness inside the giant. I have to say I was really proud of him and really impressed by the play.
Tessa Bide Productions and Soap Soup Theatre don't underestimate kids, and I love that. I never thought my seven year old boy would be so attune to a giant and her little friend, Poppy.
And as a final touch to our magical afternoon, the actors came out at the end of the show for a Q&A session and a chance for the kids to meet the puppets. We couldn't really ask for much more.