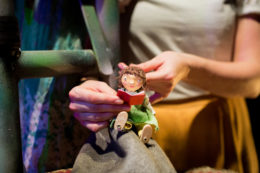 Bristol 24/7 reviews The Selfish Giant at Bristol Old Vic in April 2019.
Based on the original story by Oscar Wilde, The Selfish Giant has been adapted for the stage by Bristol companies Soap Soup Theatre and Tessa Bide Productions. The tale – of a giant who builds a wall around her beautiful garden to keep the children from playing in it – is reimagined using puppetry, physical comedy and music.
This unlikely friendship between a giant and a girl, both of whom feel like they 'don't quite fit in', is imaginatively retold with simplicity and care by Rosamund Hine and Tessa Bide. The clarity of their storytelling as they breathe life into each of the characters is a delight to watch. The space is a constant buzz of magic with their energy – and the physical comedy is a hit too, as chuckles ripple across the audience throughout.
The design on this production is truly beautiful. The versatile set is adorned with items of clothing and natural textiles that transform from foliage to costume. The seasons come and go and walls are built and razed to the ground as if by magic. The joyous way in which performers and puppets alike interact with the space enables the narrative to play with scale and give the space a playful energy.
The journey of the piece has been carefully crafted with clever shifts in tempo and beautiful underscoring from composer Matt Huxley. By turns energetic and poignant, it keeps the 3+ audience engaged throughout the hour-long performance.
This gentle tale is easily relatable for the audience as the world to the small is full of giants and walls to keep you away from things you really shouldn't be playing on! The Weston Studio comes alive with champions for Poppy and rousing chants to wake Grinter the giant. But it's the excited surge onto the stage to meet the puppets after the show that truly marks the success of this show.
The Selfish Giant is beautifully crafted by these two leading family theatre experts. A perfect way to occupy young minds this Easter.