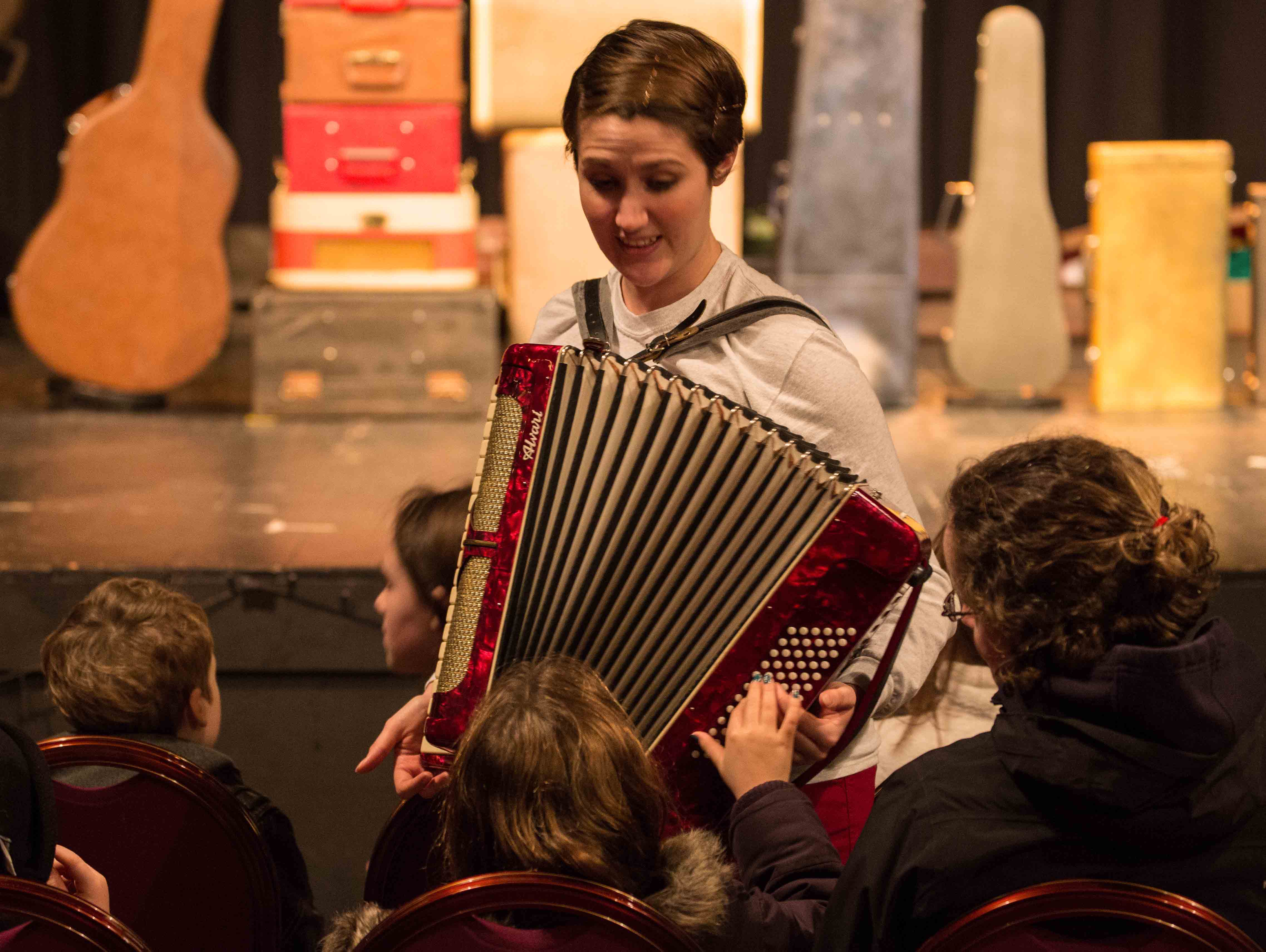 Karen Blake (Weston Super Mum) reviews The Melody Makers at The Wardrobe Theatre in December 2015.
'The Melody Makers' is the latest theatrical offering from Bristol based writer and performer Tessa Bide. It bills itself as a magical musical extravaganza that will charm the socks of anyone young and old. We were intrigued! As we entered the inviting, cosy but more than big enough new theatre space, we were met with the sound of Tessa playing her accordion and chatting with the audience as they found their seats. Unusually for my 6 year old who usually takes a little while to warm up in a theatre show, she charged straight to the front row and immediately began chatting with Tessa and asking for a go on her accordion. Tessa obviously put her at ease, she clearly had a great affinity with children and made sure she chatted with me too…We knew straight away this was going to be a great show for kids.
'The Melody Makers' tells the story of 11-year-old Pip (played by Tessa), who hates Christmas. Sadly for her, her family loves it. They actually love it so much they have changed their second name to it, and practice all year round to make sure Christmas is perfect. But one day, all of a sudden the Christmas music disappears, and Pip must go on a quest to find out why it has stopped. Could it be down to the mysterious little melody makers, who seem to be the ones with all the music under their belts?
Tessa is ably assisted by three other talented musician-actors, who take all the other parts in the show with style. Each performer on the stage is able to turn their hand to a number of different instruments, and bring the story and the music to life. One lovely touch was a clever use of the musical instrument boxes as props that helped to tell the story. A guitar case that became a boat, another that became a hot air balloon, a set of bongo drums that provided the eyes for a not very scary monster… Lovely stuff!
All the actors (particularly Tessa) dealt very well with some particularly rambunctious young audience members who were perhaps a little too drawn to the easy to access stage. This may have put lesser performers off, but Tessa and her merry band of musicians went with it and played along with them. There was the chance for all the younger audience members to sing and dance along with the actors at the end, which my daughter loved…
We left the shiny new Wardrobe theatre feeling festive and jolly, and determined to be back for future shows. 'The Melody Makers' rounded off a fun packed weekend of Christmas show reviewing perfectly, and we would highly recommend it to get you in the festive mood."