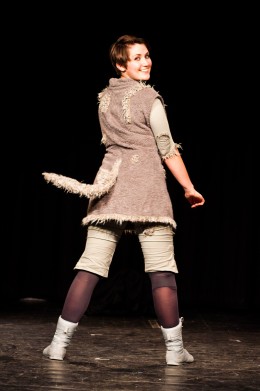 Jessica Currie (Guide 2 Bristol) reviews Muttnik: The First Dog in Space at Tobacco Factory Brewery Theatre
''It's a play about a dog that goes into space '' I told my two boys aged 2 and 6. This was greeted with nothing less than unabated enthusiasm, and enthusiasm became the theme for the day. Niki Mccretton was the show's creator and original sole performer, and Tessa Bide who fills the role she created seems to exude enthusiasm from every pore and this becomes instantly infectious. She has the audience eating out of her paw from the outset.
The story, as the title suggest, is based on the first dog in space Laika who went aboard the Russian Sputnik 2 rocket in 1957. Mccretton has taken her make-believe version of events very seriously, having done in depth research into her subject. She actually went to Moscow and interviewed a real life astronaut. Her interpretation, told through dance, music and puppetry and virtually no dialogue is beguiling, beautiful and truly funny.
Tessa Bide is a truly amazing one woman power house, and Muttnik is an all-singing, all-dancing whirl wind performance. She skips seamlessly, via spinning superman style costume changes, from Scientist to Solider to Babushka to Dog in a blink of an eye. There was plenty of audience participation, her comic timing was spot on and she threw in some charming references to classic films for good measure.
I began to wonder if she may burn herself out, such was the energy of the performance. I, and I think much of the audience, thought it had ended with the joy of hand jiving. But there was yet still more to come! Could there be too much to this play? My kids didn't think so. And you could even go up at the end to get a signed poster, ask questions and look at the set and props. No wonder this Muttnik has been touring since 2004, it's simply brilliant!