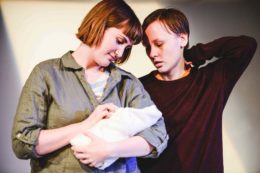 The Guardian reviews Perfect at Omnibus Theatre in May 2018.
Adam Fuller directs a skilful adaptation of the children's book about a boy whose sibling is born with a disability.
Tessa Bide Productions have devised a finely calibrated family show, based on the thoughtful children's book Perfect, written by Nicola Davies and lit up by Cathy Fisher's wistful illustrations. Gentle when it needs to be but committed to exploring complicated themes, Perfect is about a boy who struggles with his emotions when he discovers that his much longed-for sibling has been born with a disability.
Director and dramaturg Adam Fuller has cleverly extended the early stages of the story to encourage the audience to share the boy's impatient excitement about the birth. Eline Hallem plays the boy and is uncannily convincing as she races about with the gangly enthusiasm of a kid not yet used to his body. She interacts easily with the audience and asks them to share stories about their siblings. The children's answers are incorporated into the script, their stories folded into the fabric of the show.
Luned Gwawr Evans's design feels warm and comforting: a cluster of pastel homes, dappled with sunlight, surrounds the stage. A large projection screen is filled with natural images inspired by Davies's illustrations: fluffy clouds, lush grass swaying in the wind, tiny swifts fleeing the nest.
When the baby is brought home by the mother (Tessa Bide, loving but slightly adrift in her sorrow), the boy runs away. He comes across an injured swift, represented by an exquisitely crafted puppet, controlled by Bide with emotion etched across her face. Layers of empathy build.
Perfect does not shy away from how a family's excitement for the future is suddenly muddied by confusion and fear. The exceptionally engaged young audience is testament to an engrossing show that is full of compassion and makes siblings of us all.