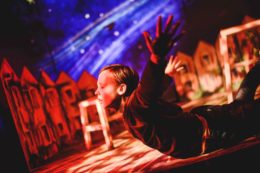 Children's Theatre Reviews review Perfect at The Lyric Hammersmith in April 2018.
Perfect, based on the book by Nicola Davies and Cathy Fisher, is gorgeous. The adaptation not only takes visual inspiration from the text's beautiful illustrations, but from their function too. Author Nicola Davies said of the book that "so much of the emotion and meaning of the narrative must be carried in the pictures, in the faces and body language of the people and in the swifts." It's a story full of emotion – the expectation and excitement, followed by grief and anger, of a young boy as he meets his disabled baby sister for the first time – and full of swifts – he's fascinated with the birds that nest in his roof, whose lives swoop into his own. Much like the images on the book's pages are left to convey so much, it is up to the audience to interpret the movement and faces of performers Tessa Bide and Eline Hallem, in a script unafraid of pauses, unfinished sentences and unspoken words.
Adam Fuller's direction, Matt Huxley's music, Joe ​Stathers' lighting and projection, and Luned Gwawr Evans's design immerse us in the dreamy world of Cathy Fisher's illustrations. Fisher originally used pastels, but the set seems to utilise watercolour, with everything sort of bleeding into each other – the splashy-fronted houses into the multi-coloured dawn – capturing the ways nature and domestic life run into one another, just as the swifts' and the sister's stories intersect. Animations of sky, space, street and garden make for a vivid backdrop on a semi-circular screen, which is also used for some stunning shadow theatre, as the little boy dreams of the swordfights, races and cartwheels he'll share with his sister once she's born.
I still haven't made my mind up about the interactive element, which, rather than being embedded into the show's fabric, seems cut from a different cloth. It pulls us out of the pastel world and back into the auditorium, though perhaps as an only child the little boy, who spends a lot of time alone, can't help but chat to the audience.
Moving, gentle and thoughtful: Perfect is sophisticated and sensitive in its storytelling, exquisite in its design and, best of all, really trusts its young audience.