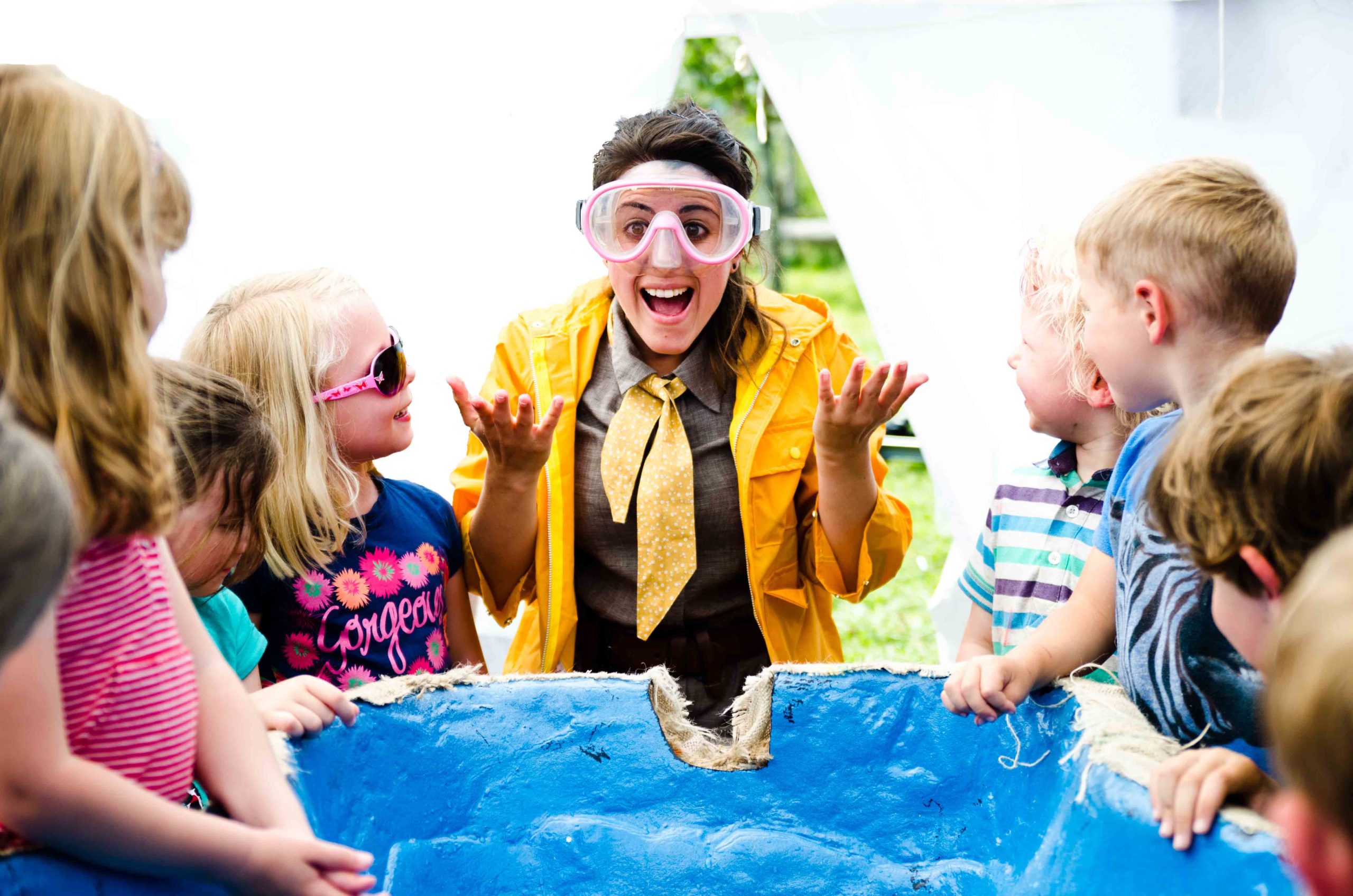 Having already seen Tessa Bide's Tap Dancing Mermaid, we went to watch Arnold's Big Adventure keen for another excellent show with music and puppetry. But this was different! The quality was the same, the compelling storyline and humour were there, but what was different was that this was not in a theatre with rows of seats. This was a personal encounter, involving a small audience invited into a circular tent for an experience like no other.
Even before we got inside there was an acorn hunt to engage all the children. Then in we went; the tent's interior began as a woodland where youngsters sat on leaf shapes on the floor, while grownups were seated on 'branches' behind them.  As the story of Arnold the Acorn unfolded, the tent was transformed into the sea and later back to the forest. The children were encouraged to hide among the seaweed from a (slightly) menacing rubbish monster who sang a lesson in responsible litter disposal and to join in with displays of their knowledge and problem solving, as well as a pooh-sticks race. Tessa and her colleague really know how to relate to the young, managing to involve every child in the acorn antics. Adults weren't left out – we made waves and swished our seaweed along with the little ones.
The overall story was one of triumph over adversity, friends helping each other and a tree living happily ever after. My grandchildren loved it! And what joy to watch children so completely absorbed in the tale that they forget where they are and, indeed, their (grand)parents' existence. I have never seen a show with so much audience participation, nor one so perfect in terms of format and content for the age range, which is about 3 to 10. Younger children will enjoy it too, though some aspects will go over their heads.
Both performers played music and sang, clowned about and worked the seagull puppet. A very talented pair in a truly outstanding show; I cannot recommend it highly enough.