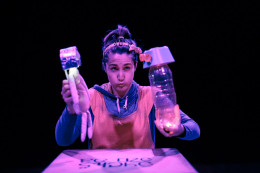 Female Arts reviews A Strange New Space at Bristol's Circomedia in April 2017 (4 stars).
Amira is a refugee but dreams of being an astronaut. This fascinating, non-verbal production takes us on her journey from her war-torn homeland through to the refugee camps via outer space. Told through physical theatre, sound, lighting and puppetry, we follow Amira as she is separated from her family on to her journey into the unknown.
In January 2017 Tessa Bide went to Athens to volunteer and begin her research for Amira's story. She worked with refugee charities and met many children who had experienced difficult and harrowing journeys. The production's aim for A Strange New Space is to serve as a catalyst for conversations around the continuing crisis and to question what it means to be a refugee, especially for a young audience.
There is something magical about this solo production. Stripped of words, the production rests on Tessa Bide's performance, which captivates the audience from the start. Her performance is imbued with humour and compassion as she gently guides the audience through Amira's travails. The horrors of life are implied rather than explicit and whilst young children will not know the hardships of a refugee, they can relate to loss and deprivations like hunger. Witnessing the scene where Amira asks for food and the children in the audience respond by filling her bowl is a heartwarming sight, giving us hope for the future.