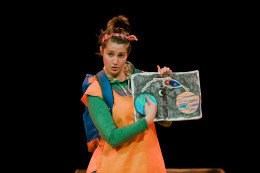 Curious Mum reviews A Strange New Space at The Lyric Hammersmith in April 2017.
A play without words, with very little props and just one actor makes for an unexpected hour of being on an emotional rollercoaster. Each feeling, be it excitement, happiness, sadness or rejection, draws us into the story and is proving to be more powerful than a thousand words.
A Strange New Space is a new play by Tessa Bide, whom we have been very fond of since we saw her last show A Tap Dancing Mermaid. A skillful puppeteer, an author and a performer, Bide is a well of talent. She radiates warmth and connects with young audiences instantly and effortlessly.
Our protagonist, Amira, dreams of becoming an astronaut and when she's forced to leave her home, after a big crash, bang and shake, her dream becomes reality. But no matter how exciting it is to explore new places, she longs for home.
The topic of child refugees has been handled with great care and tenderness. We applaud Bide for getting the balance just right and taking us through the rainbow of emotions well in the grasp of a 4 year old. What's more, the show leaves plenty of room for imagination and interpretation. Hearing little whispers suggesting what's happening on stage just goes to show what an inspiring production this is, sparking curiosity and genuine wonder.